Welcome to Flash Pulp, episode three hundred and eighty-six.
Tonight we present Coffin: Weakness, Part 1 of 6
(Part 1 – Part 2 – Part 3 – Part 4 – Part 5 – Part 6)
[audio:http://traffic.libsyn.com/skinner/FlashPulp386.mp3]Download MP3
This week's episodes are brought to you by Every Photo Tells…
Flash Pulp is an experiment in broadcasting fresh pulp stories in the modern age – three to ten minutes of fiction brought to you Monday, Wednesday and Friday evenings.
Tonight Will Coffin, urban shaman, and Bunny, his recently sober apprentice, encounter a strange party at the river's edge.
Coffin: Weakness, Part 1 of 6
Written by J.R.D. Skinner
Art and Narration by Opopanax
and Audio produced by Jessica May
Finding the spot had been fairly simple – the crown of the red balloon that he'd been told marked his destination was bobbing at the center of Nash Bay, one of the river's calmer nooks – but, though the thaw had come early that spring, the water was still frigid enough to bite at Will Coffin's skin as he forced his bare toes and jean-covered legs into the Lethe.
Ten feet further along the shore, Bunny offered her encouragement.
"Hurry the #### up, it's as cold as Cheney's heart out here."
In truth, Will was just as in a hurry as she was. Placing an ancient stone of arcane origin beneath his tongue, he tested its long-proven ability to provide air even when none existed, then slipped beneath the mirrored surface.
Below, it became apparent that the marker was only the top most balloon in a cluster of ten. Pinned to a card table which was itself weighted to the riverbed, the rainbow-coloured column waved gently in the waters flow. There were four attendees at the party, each tied to a thick metal chair and wearing a plastic party hat.
Coffin recognized but one, the blue-blazered woman who had, until recently, anchored the Capital City News at Six. Still, the note that had divulged their location had also included the identities of all involved.
Digging into his pocket, the shaman wrapped his fingers in the Crook of Ortez, the mystic chain that allowed for communication with the dead – yet, as he feared, there was not a single apparition on hand to question.
Will turned back, having seen all he'd come to see.
As he reached for a towel, his jacket, a blanket, and his hot coffee, he asked his apprentice, "What do a TV news anchor, a Catholic school principal, a rich guy's trophy wife, and a two-bit dabbler have in common?"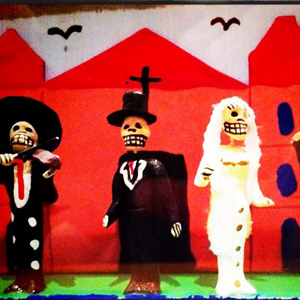 Bunny could not help but notice the tone in his voice, and it struck her that in the past he would have asked the question with the cool detachment of a man who barely cared. Now she worried that perhaps he cared almost too much.
"I don't know, but I'm sure it's a ####ty punch line," she answered.
"I knew the dabbler, Pendleton, a bit," said Will. "He earned his money scamming people with cold readings, but he nearly managed to get one of those damned cursed monkey paws working in the late '90s. I was just lucky to get it away from him before the thing scraped together the mystic juice to actually grant his wish."
"Do you know what he was hoping for?" Bunny asked with a raised brow.
"Yeah, infinite more wishes, which, given the 'one finger, one wish' nature of that sort of talisman, means we'd end up with a gigantic simian hand growing ever larger on the horizon before it finally blots out the sun with its jungle of gnarled brown digits."
As Coffin finished the story a tight squadron of a dozen ospreys formed above the river and swept the opposite shore. As one they turned to cross in front of the pair, then, banking within feet of their audience, the birds drove skyward.
"Sweet ####ing candy corn," said Bunny, "that was a ###damn Tom Cruise flock of birds right there. Some real Top Gun ####."
"It's good to know I can still impress," replied a sleepy voice over her left shoulder.
Turning, Bunny was somewhat comforted by the frown on Will's face. At least she wasn't the only one taken by surprise.
With a preening ruffle of his furled wings, Wide Eye, animal lord and recently appointed regent of the area, hunkered low on a driftwood log.
"Judging by your moist nature, you've seen the party?" asked the massive owl.
"Yeah," answered Coffin.
"You have spoken with the dead then?"
"No."
Bunny shuffled from foot to foot to fill the pause as Will stooped to lace his boots.
It was the hulking fowl, however, who finally broke the silence.
In a slow midnight tone, it said, "you will look into the matter."
Will's shoulders became tight beneath his beaten leather jacket. "I hold an independent office. I do not work for you and you have no jurisdiction over what I deem worthy of my interest. As it happens, you're lucky that I have nothing better to do."
It was Bunny's newfound mental clarity that kept her from muttering, "bull####."
"We shall see," replied the owl. "Go visit the woman mentioned in my note. Rosanna."
Spreading his broad wings, the animal lord made no effort to hide his departure.
Flash Pulp is presented by https://www.skinner.fm, and is released under the Creative Commons Attribution-Noncommercial 3.0 Unported License.
Intro and outro work provided by Jay Langejans of The New Fiction Writers podcast.
Coffin's theme is Quinn's Song: A New Man, by Kevin MacLeod of http://incompetech.com/
Freesound.org credits:
Text and audio commentaries can be sent to comments@flashpulp.com – but be aware that it may appear in the FlashCast.
– and thanks to you, for reading. If you enjoyed the story, tell your friends.