Welcome to Flash Pulp, episode four hundred and twenty-six.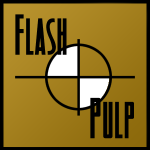 Tonight we present Balance
[audio:http://traffic.libsyn.com/skinner/FlashPulp426.mp3]Download MP3
This week's episodes are brought to you by The Casebook of Esho St. Claire!
Flash Pulp is an experiment in broadcasting fresh pulp stories in the modern age – three to ten minutes of fiction brought to you Monday, Wednesday and Friday evenings.
Tonight we find ourselves trapped on a Capital City bus with an apparent madman.
Balance
Written by J.R.D. Skinner
Art and Narration by Opopanax
and Audio produced by Jessica May
"Fare?" asked the driver, his eyes bored but his lips taut at having had to repeat himself for a third time.
Clay Lyons, locked in internal conversation, barely noticed, though his hand continued to shuffle around inside his jacket as if in search of change.
Coming to an answer, he turned and took in his fellow passengers.
The bus was largely empty. On the left side of the aisle a fatigue-jacketed man of fifty, his knit cap pulled low, slept his way through Capital City's most remote stops. To the right, a sixteen-year-old boy watched Clay, his gaze appearing to take the newcomer's measure. Beside the teen sat a woman whose graying hair seemed to have arrived too soon for her thirty-something face. She was occupied with the sidewalk beyond her window.
"Listen: Pay up or step off," said the driver.
With a sigh, Clay reminded himself that it wasn't his fault. He'd been driven mad by the lawyers and the system weighing against him and damned Lorraine. She'd always driven him nuts – wasn't that obviously why he'd hit her so often?
It was her fault. It was the system's fault. It was everyone's fault.
Producing one of the six-inch knives he'd bought online, Lyons smoothly swung out the blade with a flick of his practiced thumb.
As the tension of his life drove the weapon into the wheelman's throat for the fifth and sixth time, Clay decided he was truly crazy – that he'd been made crazy his responsibilities, and by his ex-wife.
* * *
"Fuuuuuuuuu-" began Quinton Labadie, but his mother's proximity shut his mouth. Her wrath wasn't worth raising, even in the face of cold blooded homicide.
The teen had lost count of the killer's thrusts, and a red mist now hung across the windshield and over the murderer's white shirt and black tie.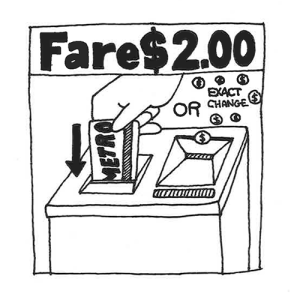 Standing, the youth tugged at Amoya Labadie's arm until she relented and joined him on the runway towards the rear exit. That's when the man in the khaki coat snored.
It was enough to snap the executioner from his rage.
"Am I boring you over here!?" screamed Lyons.
Raising his head in confusion, the slumberer took in the scene.
"He's got a knife!" shouted Quinton, but the warning was too late even as it passed across his lips.
Stumbling over his still-sleeping feet, the dreamer had attempted to leave his seat, but was overtaken by the crimson form of the knifeman.
Staring up from his leaking handiwork, Clay pulled on a cruel smile.
"Scared?" he asked.
"It's not you I'm worried about," answered Quinton, but it was too late. His mother had taken notice of the world again. She drew the large yellow purse close to her chest, her brows low with suspicion.
"You'll be hurt," she said, setting a hand on her son's shoulder, "he's got shadow eyes."
* * *
Usually the shadows simply lurked beyond the windows, but sometimes they got inside folks, and you could only tell by the darkness in their eyes. That's when they were most dangerous, because they could jump from gaze to gaze.
Amoya had been at war for ten thousand days. She knew because she'd written each of them out, as roman numerals, in her journals.
She'd first seen the glooms when she'd entered puberty. She'd long harboured suspicions, reinforced at every sleep over and birthday party, that her existence was somehow aside from those of her friends. She'd worried that they could tell she was different, and she'd worked hard to hide those differences.
Decades later, her son was the only one with a hint of her true vision. Most would have said she was just a quiet woman with a large yellow bag always at her side. Yet the war continued.
The shades were everywhere, taunting her through the lips of news anchors and in the sneering refusals of the insurance companies. The lesson that she was alone had come young – but she was a fighter. She had kept her secrets, knowing they'd take Quinton away if she didn't, and she had waited.
Now they had come, as she'd always known they would.
They had come, but she was ready.
Clay approached with the heavy tread of an angry man – a betrayed man – but she thrust her son aside with the strength of true madness: Of a lifetime's certainty that the world was aligned against her, not just in a moment of rage, but at every second, with every breath and every push up and every mile ran.
He raised the knife, and she saw the shadows in his eyes.
He raised the knife, and she knew there was only one way to keep the gloom from entering her own being.
The banana-coloured purse dropped away, revealing the portable nail gun that had been her constant companion for over a decade.
In the end, no amount of surgery would save Clay Lyons' punctured vision, but Amoya's victory would be enough to rally the support she and her son truly needed.
Flash Pulp is presented by https://www.skinner.fm, and is released under the Creative Commons Attribution-Noncommercial 3.0 Unported License.
Intro and outro work provided by Jay Langejans of The New Fiction Writers podcast.
Freesound.org credits:
Text and audio commentaries can be sent to comments@flashpulp.com – but be aware that it may appear in the FlashCast.
– and thanks to you, for reading. If you enjoyed the story, tell your friends.