Welcome to Flash Pulp, episode four hundred and twenty-one.
Tonight we present Back on the Road
[audio:http://traffic.libsyn.com/skinner/FlashPulp421.mp3]Download MP3
This week's episodes are brought to you by Get Published
Flash Pulp is an experiment in broadcasting fresh pulp stories in the modern age – three to ten minutes of fiction brought to you Monday, Wednesday and Friday evenings.
Tonight we follow an aging Grizelda Henderson as she rides the Capital City public transportation system into adventure.
Back on the Road
Written by J.R.D. Skinner
Art and Narration by Opopanax
and Audio produced by Jessica May
Grizelda Henderson was on the Capital City 43rd, headed towards fifth street.
She was considering just how long it had been since she'd last been out of the home, but, then, where had she to go? Her preference for hard living, and her love of Middle Eastern women, had kept her from settling into a family of her own.
Now, however, her fool niece Hannah had gotten herself into a whole mess of trouble downtown, so at least she had a destination.
"Handihelper is your helpful friend!" said the Handihelper.
"Shut it," replied its wearer.
Grizelda was a good ten years younger than most in Holly Acres, but she'd made full use of her body while she'd had it, and chronic arthritis had come to rest in her knees and shoulders. If it wasn't for the bulky robotic skeleton that carried her, she knew it would have been impossible to mount the bus' steps.
"Handihelper is your helpful friend!" the suit reminded her.
"Fuck off," muttered Grizelda.
For the fiftieth time, she wished she'd had a chance to find the circuit to disable the cheery voice. The rig had been something of a miracle two-and-a-half decades earlier, when she'd first been introduced to the technology. It was, in fact, the exact same model she'd used overseas, when, instead of Auntie Grizelda, she'd simply been known as Lieutenant Henderson.
"Tenth street,' announced the public transport's automated driver. "We regret to inform passengers that the news feeds are reporting an ongoing hostage situation at the corner of Fifth and Maple. Please be advised that this may cause traffic issues and increased risk of bodily harm."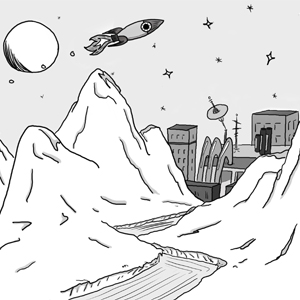 Like the handihelper – or the General Motors Mark III Exoskeleton, as they'd known it back in her days of sand and oil – Grizelda considered herself a relic of a past age. Still, time had not stolen her mind, and she found some relief from her pains, and her long nights of insomnia, in field stripping and reassembling the suit.
Pulling apart arm joints, and voiding the warranty by inspecting the wiring, had provided her a greater sense of normalcy than tottering about the home's linoleum floors in the greatly restricted hardware ever could.
"Two hours of continuous operation!" the excited technician had told the group gathered beneath the yellow Easter decorations in the cafeteria, yet she'd known the military grade batteries had been able to operate for five times that, and not at the turtle crawl at which the modified units were programmed to conduct business.
There had been an incident, near the end of her tour, in which she'd been pinned down, with three other infantry, in a mud and straw beehive house. The walls had been slowly disintegrating under continuous mounted-weapon fire, but PFC Ramos had lost everything below her right knee, and Stanwyck and Garcia had both blown their leg actuators in the panicked sprint from the sandy ditch that had been their previous shelter.
The mortars landing at their heels may also have been part of the problem.
During the tense standoff that followed, Grizelda learned more about jury rigging the Mark IIIs than she suspected the used car salesman of a tech would ever know – her continued existence, and the yearly birthday card from PFC Ramos, were all she needed for proof.
Now, though, few seemed to care about the slow wobbling of a women that age, and thus no one had bothered to ask after the large scarlet override – pried from a floor polisher in the depths of an unlocked maintenance closet – that she'd affixed, via duct tape, to the location above her right breast where her fruit salad of campaign ribbons had once hung.
"Handihelper is your helpful friend!" the suit repeated, and all ignored it, just as they did Grizelda herself.
The vehicle announced sixth street, and Lt. Henderson registered her intention to get off.
As she descended the stairs, she found herself chuckling. "Two hours of continuous operation? I'll need less than ten minutes."
Slapping the red button, she sprinted away.
Flash Pulp is presented by https://www.skinner.fm, and is released under the Creative Commons Attribution-Noncommercial 3.0 Unported License.
Intro and outro work provided by Jay Langejans of The New Fiction Writers podcast.
Freesound.org credits:
Text and audio commentaries can be sent to comments@flashpulp.com – but be aware that it may appear in the FlashCast.
– and thanks to you, for reading. If you enjoyed the story, tell your friends.