Welcome to Flash Pulp, episode three hundred and ninety-eight.
Tonight we present Understanding: a Blackhall Tale, Part 1 – The Maiden
[audio:http://traffic.libsyn.com/skinner/FlashPulp398.mp3]Download MP3
This week's episodes are brought to you by The Melting Potcast
Flash Pulp is an experiment in broadcasting fresh pulp stories in the modern age – three to ten minutes of fiction brought to you Monday, Wednesday and Friday evenings.
Tonight we present an occult fairy tale of sorts, as we enter an ancient forest to happen upon a bloody scene and an abandoned child.
Understanding: a Blackhall Tale, Part 1 – The Maiden
Written by J.R.D. Skinner
Art and Narration by Opopanax
and Audio produced by Jessica May
Centuries ago, during the dark times, in a village whose name died with its last progeny, there was a girl of round face and bright eyes. Her mother had not survived her labour, and her father died, moments thereafter, of a despairing jump while attached to a short rope.
Though orphans were not uncommon, the deceased parents had been well liked, and the tales told around their demise struck the community at large as particularly shocking.
The arrival of Nona the Seer an hour after the culmination of events simply reinforced the tragedy. Nona had overseen the majority of successful births in the loose confederation of hamlets that made up the bairn's home, but ill weather that had kept the midwife from plying her simple magics and root craft at the delivery – or even providing a calming leaf to chew, and thus sustain the mourning father through his grief.
It is for these reasons, perhaps, that Nona lifted the babe from her abandoned swaddling, cut her tie to her dead mother, and carried her into the dusk.
Some frowned upon the woman acquiring a ward, as it went against the nature of her station, but those who complained were equally often hushed with a reminder that the Seer's bony wrists seemed ever-more frail at each visit, and that even she could not live forever – and, besides, it was better the girl fill the station rather than their own kin.
The Seer's position was enshrined in regional tradition. It was held solely by a woman of arcane knowledge and occult training – and, though she would be entrusted with the gathered secrets of the people she served, she must treat each nursling as her own, and thus never give birth herself.
According to proper telling, as passed from parent to child by fireside, the title befell only a virgin.
It was obvious by the girl's eleventh year, however, that this was not entirely true.
Life with Nona was a life on the road. Many was the night that they slept in humbly offered rough-timbered barns, and for the first four of the foundling's years she was sustained on naught but goat's milk. To Nona's thinking each step between visits was an opportunity to collect reagents, and there was not a bush she would not pry apart, nor thistle she would not ransack, to fill the sacks hung diagonally across her chest by a trio of belts.
Though none were labelled, Nona's fingers never seemed to misstep when contriving a poultice or tincture.
It was the girl's own education, and slow memorization of where each ingredient lay, that made clear that her mentor sometimes imbibed the same concoction provided to daughters who'd planted a seed too early.
Discretion, however, was also a large part of the girl's schooling, and so she said nothing regarding her discovery.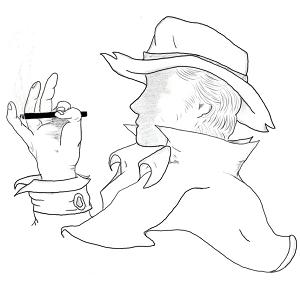 Before long the thin-limbed lass whose wide brown eyes seemed to reflect an unflinching depth beyond a natural understanding was known simply as the Maiden.
She was taught the reading of runes, palms, and leaves; balms for rashes and burns; the skill, simpler in those times, of starting a flame with naught but a thought and a few arcane gestures. Her curiosity was insatiable, and, in those endless hours awaiting a delivery or the breaking of a fever, she would inquire after the traditions and superstitions of her hosts.
None refused the Maiden the words whispered by their grandmothers to halt bleeding, cease drunkenness, or cure an aching head.
Many were the maladies of the era that were incurable by prayer or patience, the dominant medicines of the time, and in a decade and a half few were the families who could not claim some assistance by "Nona and her Maiden."
All – having conveyed some otherwise secret knowledge to the girl – felt some kinship, and even ownership, in regards to the child. Her cheeks were pinched, and her head patted, well beyond a reasonable age for such.
Many imparted the same wisdom in her ear: "Someday you too shall be like Old Nona, second mother to each one of us, and our grandchildren shall be your grandchildren. Tradition says it is so."
It was Nona who first spoke against her, though they all soon followed.
On the evening of her sixteenth birthday she'd snuck from the birthing room of Adela Rose's eighth child, and called Adela's eldest, Marcus, to her side. The boy was but two months her elder, though she'd tended him through an infected broken arm at twelve. She'd held some fondness for him since.
Despite the number, the birth was no quick affair, and the girl and boy had often found excuses to stand close in the quiet heat of the kitchen while the focus was elsewhere.
The mess of the process was not enough to quench the desire pulling at her bones, and it was only noisily amongst the wheat that she finally mastered her need.
Marcus put up a noble attempt at future interest, but the girl had never known a stationary life, and her lust had been kindled on the farmhand's shoulders, not his mind. He'd seemed just as relieved as she at her departure, hours later, and she thought nothing but kind thoughts of the incident until the day she grew suspicious at her own lack of blooding, a regular reality since the age of fourteen.
She herself had provided the diagnosis often enough to know the cause, but kept the insight to herself through another birthing, a leg amputation, and the lifting of a shaman's curse.
It was after the extraction of this last, a wolf daemon bound to a woodsman of notorious temper, that the girl let slip her secret.
Nona had selected a field in which to camp beneath the clear stars, and the fire was there but for illumination, not warmth. The spirit had been pulled from its home with much howling, and the shattering of the woodsman's jaw. Ignoring the blood and tears, the women had driven the phantasm forth, ending its victims unintentional string of homicides – though not before the man had left his own family shredded amongst their bedding.
All told, the girl had thought her own troubles slight in comparison, and it was in this light that she had spoken – and why not? She had reckoned herself a match in intellect and skill to any in the area but perhaps Nona, and she had undertaken matters both physical and metaphysical that would likely ruin the psyche of the farmers and petty merchants she served.
"The traditions!" Nona had replied. "Well, all is not lost. I will mix you up a snifter, and you'll soon be fit for the position once again."
"Damn the traditions," the girl had replied. "I did not ask for this position, but my sole request is a child of my own."
It was the single time she defied the woman, but it was enough.
There was no solution in the hours of argument that followed, and the news soon grew that the pair had split.
Within weeks there came to be no door friendly to the girl's plight, and if it was a barn's comfort she sought she had to be sure to depart before the cock's crow.
On those few occasions when she was not quick enough, or on which a response might be made to her knocking, the answer for the source of their cruelty was always the same: "There was a tradition to be maintained."
The girl, however, refused to yield her child.
Under a half moon, on the banks of a glass-surfaced creek, she attended her own birthing, and yet she cut the child's cord with as firm a hand as she cut her ties with the name of Maiden.
In ten months' time she was well upon the road, Nona buried of a broken heart, and the county decimated by a plague without a healer in place to check it.
Soon she was known by but one, and he called her simply Mother.
Flash Pulp is presented by https://www.skinner.fm, and is released under the Creative Commons Attribution-Noncommercial 3.0 Unported License.
Intro and outro work provided by Jay Langejans of The New Fiction Writers podcast.
Coffin's theme is Quinn's Song: A New Man, by Kevin MacLeod of http://incompetech.com/
Freesound.org credits:
Text and audio commentaries can be sent to comments@flashpulp.com – but be aware that it may appear in the FlashCast.
– and thanks to you, for reading. If you enjoyed the story, tell your friends.